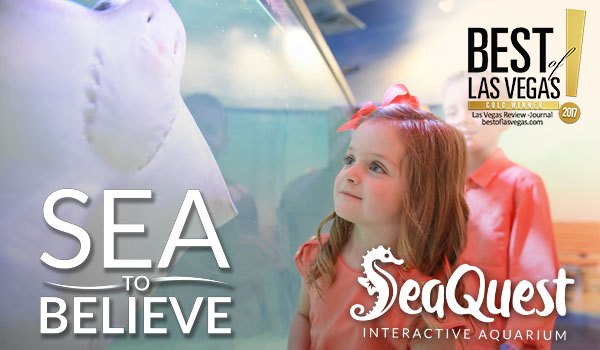 Did you know that Vegas had an Aquarium? I had no idea but the kids are so excited to head over there and check it out! This is an interactive aquarium, meaning it's hands on learning for the entire family!
SeaQuest
has various hands on encounters such as feeding sharks, stingrays, capybara, giant sulcata tortoises, large exotic birds species, and thousands of other creatures along the way.

Anyone in search of a more daring experience can enjoy walk-in bird aviaries, feeding caiman alligators or snorkeling in their giant snorkel tank filled with reef sharks, stingrays and hundreds of other tropical fish.
Sea Quest Interactive Aquarium also offers an exclusive private event venue which is ideal for school field trips, birthday parties, and private events. Explore, discover and learn more about the world we live in, as well as create lasting memories for the entire family and kids of all ages at SeaQuest Interactive Aquariums.
The SeaQuest Online Gift Package Sale Is ON!
@usfg